Carrying on the tradition of the previous Crowborough Rotary Club we have created a new human fruit machine. The fruit machine is a great fun way for us to raise money for our charities at events.
Below is it in action and during construction.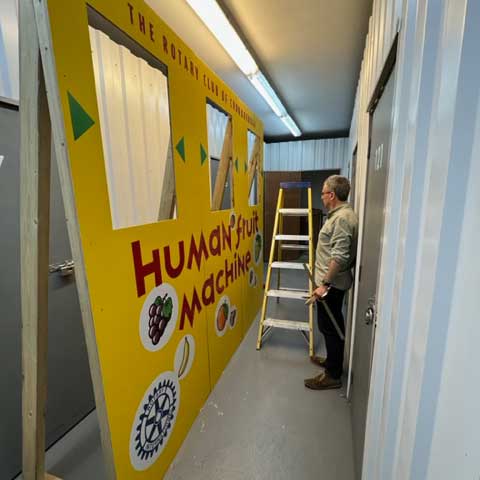 A very big thank you to the following people and companies that have donated their time and materials to produce the Human Fruit Machine :
Linda Moss and Stamco Timber for donating all of the timber materials.
Steve Hush of Cad Designs for producing the cad construction drawing as a donation.
Vince Cottingham of V Cottingham Builders for donating his time to build and deliver the Human Fruit Machine.
Steve Goodwin of SGSS Design for producing the artwork design, sourcing the vinyl graphics.
Sarah Baker of Sarah's Painting Services for donating her time last week to paint the Human Fruit Machine including supplying the paint materials, primer undercoat and top coat yellow.
Suggs for providing transport to take the Human Fruit Machine to the Crowborough Hospital site.