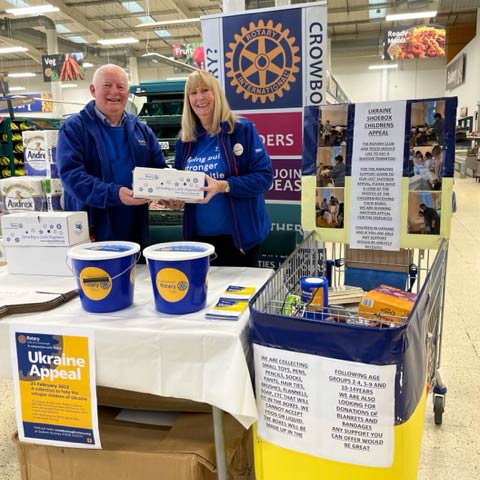 Building on the success of our 2022 Ukraine Rotary Shoe Box appeal and the wonderful feedback and pictures we received from the children receiving the boxes and the blankets, we decided to run the appeal again in 2023 in conjunction with the Tesco Superstore in Crowborough (Jarvis Brook) and the wonderful Tesco Community Champion Amy Murphy who is an absolute star.
We launched the 2023 appeal at Tesco on the 25th February with a table and advertising material for the in the main entrance lobby a prime location.
The table was manned by Crowborough Rotary Volunteers and Amy from 9-30 am to 5pm and proved to be very successful with the Tesco customer's being extremely generous purchasing and providing items from the list provided for the boxes or collecting a box to fill at home to bring back to Tesco when full.
There were also some very generous cash donations on the Saturday totalling £178 plus a £50 donation on the Sunday.
These monies have been used to purchase blankets that will go out to Ukraine on the vehicle taking the Shoe Boxes.
There have been further blanket, cash and shoe box item donations, as with the help of Amy we have kept the appeal table in place along with the donations shopping trolley and a cash collection bucket. Which has been very successful.
We will be ending the appeal at Tesco's on the 31st March.
The transport to Poland/Ukraine will be leaving Tonbridge mid-April.
We would like to say a big thank you to everyone that has donated to help the people of Ukraine.