Graham Bucksey, Chair of the Rotary Club and Amy Murphy, Tesco's Community Champion, pictured above, with 63 shoeboxes filled with the generous donations from local shoppers which will all be going to bring some joy and hope to children caught up in the conflict in Ukraine. The Rotary Club has led the way in collecting a further 100 boxes filled with essentials, clothes and toys. They will be going to orphanages set up in Poland for Ukrainian children, fleeing from the danger and violence in their home country. Some of the boxes and vital medical supplies will also go into war torn towns such as Mariupol, bringing much needed aid to those sheltering from the war.
In a matter of weeks, the Rotary Club has galvanised the generous spirit of the local community and has set up shoebox collection points in the town as well as working with Amy to run a Saturday collection at Tesco in Jarvis Brook. Graham Bucksey said "Amy has helped us in a very big way to achieve the wonderful number of boxes collected at Tesco". Tesco will continue to work in partnership with the Rotary Club and will be providing a super raffle prize at the Rotary Golf event on 10th June.
UPDATE:
At the start of July, the club was sent confirmation that the shoeboxes had arrived in Krakow, Poland. In partnership with the Riverside Centre in Tonbridge the Crowborough donations were driven across Europe by volunteers who are working with aid agencies in Krakow. The majority of the shoeboxes have been given out to refugee children sheltering in a Krakow orphanage. Helpers there, report that there are over 90 in the orphanage, and many are very young children. So, our delivery will be bringing some comfort and aid to some very needy victims of the war in Ukraine. Any spare shoeboxes are being taken to some of the shelters in the towns and cities that are being attacked by Russian forces. It is clear the strong partnership between Rotary and Tescos in Crowborough has made a real difference to some very vulnerable children and Amy Murphy should be congratulated on her energy and drive to help the club achieve such a great result.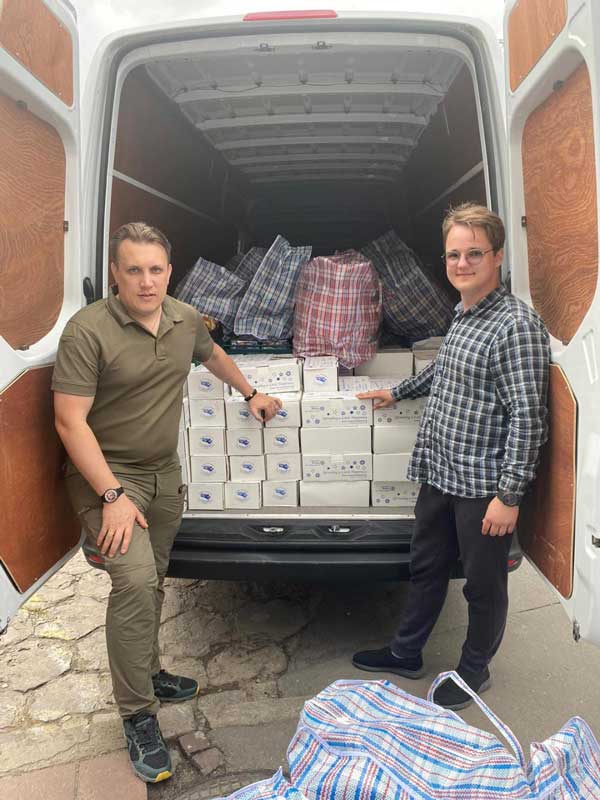 In addition to a growing partnership with Tesco, Rotary has been actively fund raising and working with other organisations to promote and support projects which are helping the needy and vulnerable in our town. Crowborough Foodbank and the Wealden Dementia Action Alliance have already benefited from the support and money raised by Rotary and the club will continue to be involved in efforts to bring aid to Ukrainian refugees. Club members will be present at Crowfest and the Crowborough Community Hospital August Bank Holiday Fete this Summer and we will be holding a Quiz Night in the Autumn. All proceeds from all these events will go to good causes so do look out for the Rotary Club stall. More information about fund raising events and details about the clubs can be found on the club website https://crowboroughrotary.org/ and new members will always be welcome.